Kansas City Airport Departures (MCI)
Not all flights may be showing. If not available use search above to find your flight by airline, airport or flight number.
Destination
Airline
Flight no.
Scheduled
Est./Actual
Status
No flight departures were found at Kansas City Airport.
Flight Departures at Kansas City Airport
When departing from Kansas City International Airport (MCI), (or "KCI" as it is abbreviated and fondly referred to by the locals), there are few things that might be good to know before arriving at the airport.
The airport has two operating terminals, Terminal B and Terminal C, both shaped around a circle road as not quite full circles. Entrances are located along the circle on the curbside with the public, non-secure, areas directly inside and the secure areas directly inside the non-secure stretch out along the circles. This means that the airport has many entrances and exits.
The airlines that operate out of the airport are allocated to a specific terminal and to specific gates as well. However, JetBlue has not yet, at the time of writing, been allocated to a specific terminal so make sure to check your itinerary for the exact terminal and gate of departure.
Terminal B at Kansas City Airport
Terminal B circles around the Rome Circle road and it serves mostly regional and national flights through boarding gates B31-B60. Airlines that are operating from Terminal B are Allegiant Airlines, Delta Air Lines and Southwest Airlines.
Terminal C at Kansas City Airport
Terminal C circles around the road named Beirut Circle and airlines that operate from here are Air Canada, Alaska Airlines, American Airlines, Apple Vacations, Frontier Airlines, Spirit Airlines, United Airlines, Vacation Express/Volaris and VivaAerobus. The terminal handles regional, national and also international flights through boarding gates C61 to C90.
Security Control at Kansas City Airport
There are 2 regular security check-points, plus one pre-check only security screening, located in Terminal B and 3 regular security check-points in Terminal C. Each airline is allocated not only to specific gates, but also to a specific security check-point.
Gates at Kansas City Airport
The gates are located along the circles and can therefore be located far away from each other.
Parking at Kansas City Airport
There are several options for parking at the airport, from Economy Parking to Valet Parking.
Economy parking is further away and the cheaper option, but requires more time as a transfer with the complementary Blue Bus shuttle is needed to move from the parking lot to the airport terminal.
Circle Parking is parking closer to the airport terminals, but it might still require a transfer with the Red Bus to the terminals.
Garage Parking is available in the parking garages located inside the circles of both terminals, with pedestrian access through underground walkways.
Valet Parking is a drop off service available at the Circle Parking near gate B40, Terminal B.
Park Air Express is operated by a partner of the airport. They offer off-airport parking options, including Valet parking with a complimentary shuttle transferring travelers to and from the airport and the parking lot.
Cell Phone Waiting Lot is an area nearby where greeters can wait for travelers to be ready for pick up as curbside parking is prohibited by federal law.
Transfers at Kansas City International Airport
Drop-Offs – Travelers can be dropped off on curbside as long as the driver does not leave the vehicle and the drop-off is instant.
Rental Cars – The rental car companies at Kansas City Airport are in a separate building, on airport grounds, that houses all car rental companies available at the airport. Customers can take the complementary Gray Bus to the terminals. To return a rental vehicle, please consult with the rental car company.
Public Buses – Route #229, operated by RideKC, runs between East Village Transit Center and the airport, Terminal C, with a few stops on the way, from early morning to late evening every day with departures at least once an hour during operating hours. The journey takes 50 minutes. Regular fare is $1.50 payable in exact change in the farebox on the bus.
Taxis – Taxi companies will drop the customer off at the closest entrance to the departing gate if nothing else is agreed upon. The taxi journey from downtown Kansas City to the airport takes around 25 minutes and costs around $50, give or take, depending on traffic.
WiFi at Kansas City Airport
The airport offers free and unlimited WiFi through the network called "KCI_FREE_WiFi". After connecting to the network, launch an internet browser and the KC portal page will appear.
Support can be reached through dialing 3176 from one of the white courtesy phones located throughout the terminals, or by calling +1 816 243-3176 from any phone.
Smoking at Kansas City Airport
Smoking is only permitted in areas, designated for the purpose, located outside the terminals.
ATMs at Kansas City Airport
There are no ATMs once through to airside/inside security in neither of the terminals, but both terminals have at least one ATM on landside/outside security.
Cash to Credit Conversion at Kansas City Airport
There are a total of three points of cash to credit conversion located in the two terminals, two in Terminal B and one in Terminal C.
Currency Exchange at Kansas City Airport
The airport does not offer any currency exchange services.
Disability Assistance at Kansas City Airport
Wheelchair reservations and curbside assistance can be arranged through the airline the disabled person is traveling with. When dropping a disabled person off it is important to know that it is prohibited by federal law to park on curbside so it is recommended to have a separate assistant and driver when unloading as the driver can't leave the car without it being considered as parked.
Nursing Room at Kansas City Airport
A specific room allocated to nursing mothers is located inside security in Terminal C.
Food and Beverages at Kansas City Airport
Both terminals have several options for travelers and visitors to grab a bite to eat or a coffee before it's time to go through security. Once through security travelers will have even more options.
Shopping at Kansas City Airport
Shopping isn't a big thing at the airport and there are only a few small places offering magazines and gifts, and there is also a Paradies Legardére store in Terminal C.
Animal Relief Areas at Kansas City Airport
Both terminals have animal/pet relief areas adjacent to it and at least Terminal C has one inside security.
Was your flight delayed or cancelled?
You may be eligible to receive up to 600 EUR compensation per person in your party..
Claim Now!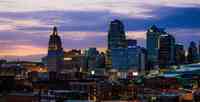 Things to see and do in and around Kansas City