Kansas City Airport Arrivals (MCI)
Not all flights may be showing. If not available use search above to find your flight by airline, airport or flight number.
Origin
Airline
Flight no.
Scheduled
Est./Actual
Status
Miami (MIA)
American Airlines
AA670 expand_more(2)
12:02
23:46
Landed
Miami (MIA)
Finnair
AY5771
12:02
23:46
Landed
Miami (MIA)
Qatar Airways
QR7965
12:02
23:46
Landed
Kentucky (CVG)
Sun Country Airlines
SY3004
02:00
Scheduled
San Bernardino (SBD)
Sun Country Airlines
SY3026
02:39
Scheduled
No flight arrivals were found at Kansas City Airport.
Flight Arrivals at Kansas City Airport
When arriving at Kansas City International Airport it might be important to know that while the airport's IATA code is MCI it is more commonly referred to as KCI, simply short for Kansas City International.
The airport has two operating terminals shaped as not fully full circles with curbside in the inner circles. The terminals are therefore long and narrow with the gates, and the secure area, spread out along the outer ring of the circles. This means that there are many exits and entrances to each terminal so it is important to know which exit a traveler is being picked up from since it is forbidden by federal law to park curbside.
Transfers at Kansas City Airport
Pick-Ups – Since curbside parking is prohibited by law, greeters can either park short term on one of the Circle Parking Lots at the cost of $1.00 for the first 30 minutes, and $3.00 for the second half hour or they can wait for free for up to 45 minutes in the Cell Phone Waiting Area located nearby until the traveler is ready to be picked up.
Rental Cars – The rental car companies at Kansas City Airport are all located in the separate rental car facility located on airport grounds. To get there take the complementary Gray Rental Car Shuttle that stops at marked shelters at the terminal median.
Public Transport Bus – RideKC's bus route #229 runs between Kansas City International Airport and East Village Transit Center with a few stops along the way.
Departures start early in the mornings, around 4-5 AM, and ends late in the evening, between 9-11 PM, in both directions. The frequency is at least once an hour between the first and last departure of the day going both directions, southbound and northbound.
The regular fare for a single one-way journey is $1.50 payable in exact change in fareboxes on the bus. The journey is approximately 50 minutes.
Taxi – Taxis are found outside the terminal exits or ordered via the white courtesy phones found both inside and outside. It is important to let the operator know your exact location.
Taxis are metered with the basic fare of $2.50 plus $2.10 per mile, although traffic and time matters as well. Approximate travel time to downtown Kansas City is 25 minutes while the approximate fare is around $50.
Shuttles – Shuttles are not endorsed by the airport, but nevertheless there are plenty available to transfer from Kansas City Airport. Most companies work on a pre-arranged transfer basis while there are also some available for walk-ups at the airport. These can be found in the arrivals area of the airport. Make sure to choose your company before arranging the transfer as the airport cannot guarantee the service in any way.
Limousines – It is possible to pre-arrange for a limousine to collect the traveler from the airport upon arrival. As with shuttles it is recommended to research the company before arranging the transfer as the airport does not endorse them and therefore they cannot guarantee quality or availability of the service.
Ride Share – Ride Share companies are a popular means of transfer from one place to another. These transfers are arranged by the traveler themselves, or a representative, beforehand through the company's app or website. The airport cannot guarantee any services or quality thereof.
WiFi at Kansas City Airport
The airport offers free internet access through their wireless SSID LAN network named "KCI_FREE_WiFi". After connecting to the network, launch your internet browser and the KCI portal page will appear. From here you have access to flight information, weather, view airport or transfer information, check your email or surf the internet. Access is unlimited.
For support please call +1 816 243-3176 from any phone or 3176 from one of the white courtesy phones in the terminals.
Smoking at Kansas City Airport
Smoking is prohibited inside the terminals, but permitted in designated areas outside of the terminals.
ATMs at Kansas City Airport
Terminal B has two ATMs located outside security while Terminal has one. There are no ATMs inside beyond security barriers.
Cash to Credit Conversion at Kansas City Airport
Three points of cash to credit conversion are available at the airport, one in Terminal C and two in Terminal B. All located outside security.
Currency Exchange at Kansas City Airport
There are no currency exchange services available at Kansas City International Airport.
Nursing Rooms at Kansas City Airport
There is a room specifically available to nursing mothers available inside security in Terminal C.
Disability Assistance at Kansas City Airport
It is possible to reserve wheelchairs and arrange curbside assistance through the airline with which the disabled person is traveling. As it is prohibited by federal law to park curbside it is important to not park or leave the vehicle unattended and it is recommended to have a separate assistant and driver when dropping off or picking up a disabled traveler.
Food and Beverages at Kansas City Airport
Both Terminal B and Terminal C have several options for satisfying hunger and thirst outside the security barrier, available to both departing and arriving travelers as well as visitors.
For travelers inside security there are even more places to choose from.
Shopping at Kansas City Airport
Both terminals have at least one place both outside and inside security where they can buy magazines and gifts.
There is a Paradies Legardére store in Terminal C.
Terminal B at Kansas City Airport
The Rome Circle is the road that circles Terminal B, a terminal that serves mostly regional and national flights. It is divided into an Arrivals and a Departures level with boarding gates B31-B60.
Airlines operating from Terminal B are Allegiant Airlines, Delta Air Lines and Southwest Airlines.
JetBlue Airways also operates out of the airport but is not yet assigned to a specific terminal.
Terminal C at Kansas City Airport
The Beirut Circle is the road that circles Terminal C, a terminal that handles regional, national and some international flights. Terminal C is also divided into an Arrivals and a Departures level. The boarding gates at Terminal C go from C61 to C90.
Airlines operating from Terminal C are Air Canada, Alaska Airlines, American Airlines, Apple Vacations, Frontier Airlines, Spirit Airlines, United Airlines, Vacation Express/Volaris and VivaAerobus.
JetBlue Airways operates out of Kansas City Airport, but it has not yet been determined which terminal it will be permanently operating out of.
Animal Relief Area at Kansas City Airport
There are animal/pet relief areas available outside or inside both terminals.
Was your flight delayed or cancelled?
You may be eligible to receive up to 600 EUR compensation per person in your party..
Claim Now!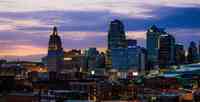 Things to see and do in and around Kansas City